Improvements
General
Layout selections
Create document layout selections have following changes
WORD EXCEL Address is renamed to Footer

POWERPOINT Author is renamed to Footer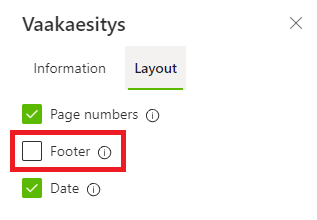 OneDrive removed from publish location
In Office user cannot anymore publish to personal OneDrive folder and predefined save location to OneDrive cannot be set in Portal.
In Teams new documents can still be saved to OneDrive from personal-tab.
Office
Visma Sign category selection
Digital signature supports now selecting Visma Sign document category.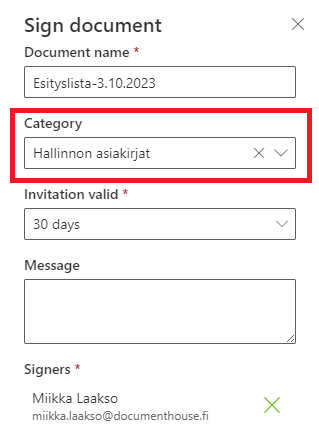 Content controls
In Word some content controls are now locked and cannot edited directly. This change applies to Date, Combobox and Editable combobox.
Portal
Navigation
Portal navigation structure is updated
Footers and companies-category is renamed to Branding

Address layouts is renamed to Word footers

Layout templates is moved under Branding

Document contents- and Galleries-categories are merged as single category Contents

Contents is renamed to Documents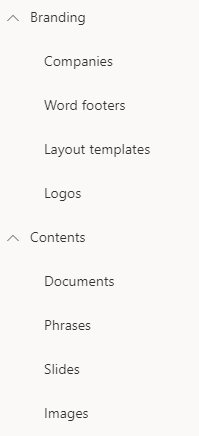 Required and readonly can be overriden for field
For overriden meta field Read-only and Required selections can now be overriden.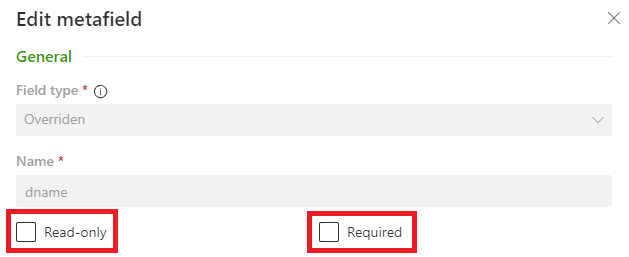 Meta groups in content panel
Meta groups and fields are now displayed in tree view in Portal to better visualize relationship and order of the meta fields in document.
Meta group order can be changed by drag&drop

Document specific fields are shown in own group
Improved template support
Excel, PPT now supports templates. In Word improved how structured documents are handled. Templates centralizes brand (colors, fonts, etc.) management and make resulting documents more consistent.
WORD Documents are built based on selected layout template and content. Document structure including section breaks, headers and footers, margins and styles will be as they are in layout template.

EXCEL In workbooks theme fonts and colors, margins, headers and footers will be as they are in layout template.

POWERPOINT In presentations slide master from layout template will be used. Existing slide layouts will be linked to slide master layouts by name